Cem Tekin
Assistant Professor, Electrical and Electronics Engineering Department, Bilkent University
cemtekin(at)ee.bilkent.edu.tr

+90-312-290-2584
Cem Tekin is an Assistant Professor in the Electrical and Electronics Engineering Department at Bilkent University. He received his PhD degree in Electrical Engineering: Systems from the University of Michigan, Ann Arbor, in 2013. He also received his MS degree in Applied Mathematics and MSE degree in Electrical Engineering: Systems, from the University of Michigan in 2011 and 2010, respectively. Prior to attending the University of Michigan, He received his BS in Electrical and Electronics Engineering (valedictorian) from METU in 2008. From February 2013 to January 2015 he was a postdoctoral scholar in Electrical Engineering Department, UCLA. He received the University of Michigan Electrical Engineering Departmental Fellowship in 2008, the Fred W. Ellersick award for the best paper in MILCOM 2009 and TUBITAK Career Award.
Cem has authored or coauthored over 50 research papers, 5 book chapters and a research monograph. He has served as a reviewer for numerous journals including IEEE Transactions on Information Theory, IEEE Transactions on Automatic Control, IEEE/ACM Transactions on Networking, IEEE Transactions on Signal Processing, IEEE Transactions on Image Processing, IEEE Transactions on Mobile Computing, IEEE Transactions on Wireless Communications, IEEE JSTSP and IEEE JSAC. He has served as a TPC member for AAAI-18, ACM Mobihoc-17, AAAI-17, AAAI-16, ISM-16, ECAI-16, MLSP-15 and GlobalSIP-15.
Cem's research interests include bandit problems, reinforcement learning, data science for personalized medicine, multi-agent systems, stream mining, influence maximization and cognitive communications.
Several research positions are available for outstanding students/postdocs in the areas of reinforcement learning, bandit problems, deep learning and data science. Please contact Prof. Cem Tekin for further details.
Research Topics
Big Data Stream Mining
Huge amounts of data streams are now being produced by more and more sources and in increasingly diverse formats: sensor readings, physiological measurements, GPS events, network traffic information, documents, emails, transactions, tweets, audio files, videos etc. These streams are then mined in real-time to assist numerous applications: patient monitoring, online recommendation systems, social networks, targeted advertisement, network security etc. Hence, online data mining systems have emerged that enable such applications to analyze, extract actionable intelligence and make decisions in real-time, based on the correlated, high-dimensional and dynamic data captured by multiple heterogeneous data sources. To mine the data streams, the following questions need to be answered continuously: Which classifiers should process the data? How many and in which order, configuration or topology? What are the costs (e.g. delay) and benefits (accuracy of predictions) in invoking a specific classifier?
In this research, we formalize the real-time mining of Big Data streams as an online learning and sequential decision problem, where classifiers and their configurations are chosen online to make predictions based on the gathered data, and subsequently focus on multi-armed bandits (MABs) as an important class of solutions for solving this problem. In the considered systems, data from the sources are processed by an online learner which determines on-the-fly how to classify the different data streams and make decisions based on the predictions. For this, the learner uses one of its available classifiers (or classifier chains) to make a prediction. Since the prediction accuracy of the classifiers changes dynamically, over time, based on the characteristics of the collected data streams, this needs to be learned online. Hence, the learner needs to continuously learn while at the same time make accurate predictions and decisions, i.e. the learning and decision making are coupled and concurrent.
The objective of this research is to highlight the key challenges associated with implementing real-time Big Data stream mining systems, show how to formalize the online learning and decision making in stream mining systems as MAB problems, present different MAB-based methods to solve these problems, and discuss their performance.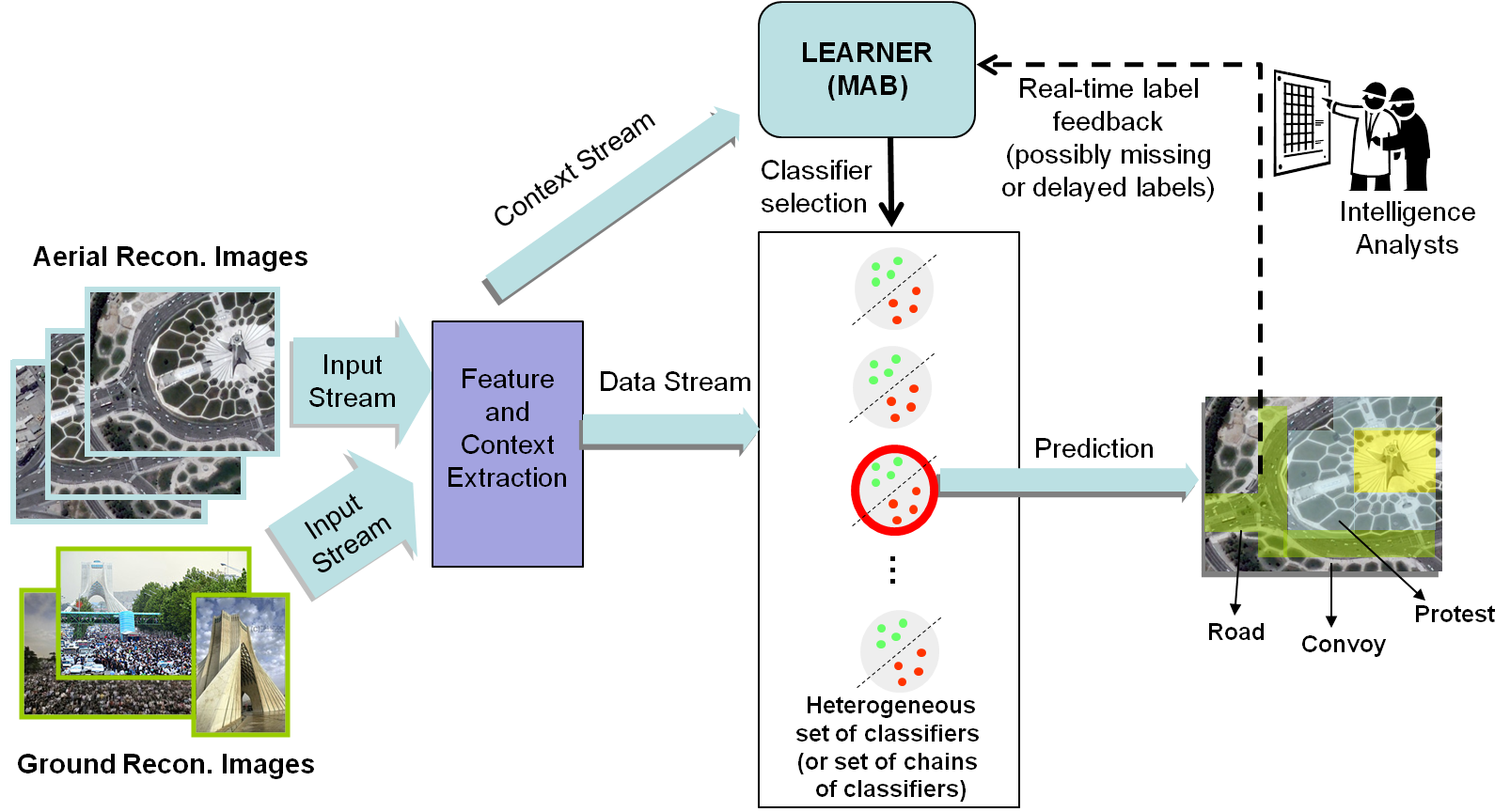 Related Publications
| | |
| --- | --- |
| | C. Tekin and M. van der Schaar, " Distributed online learning via cooperative contextual bandits", IEEE Transactions on Signal Processing, 63(14):3740–3754, July 2015. |
| | J. Xu, C. Tekin, S. Zhang and M. van der Schaar, " Distributed multi-agent online learning based on global feedback", IEEE Transactions on Signal Processing, 63(9):2225–2238, May 2015. |
| | O. Atan, Y. Andreopoulos, C. Tekin, and M. van der Schaar, " Bandit framework for systematic learning in wireless video-based face recognition", IEEE Journal of Selected Topics in Signal Processing (JSTSP) , 9(1):180–194, February 2015. |
Discovering, Learning and Exploiting Relevance in Big Data
Relevance relations arise naturally in many practical applications. For example, when treating patients with a particular disease, many contexts may be available: the patients' age, weight, blood tests, imaging, medical history etc. But often only a few of these contexts are relevant in choosing/not choosing a particular treatment or medication. For instance, surgery may be strongly contra-indicated in patients with clotting problems; drug therapies that require close monitoring may be strongly contra-indicated in patients who do not have committed care-givers, etc. Similarly, in recommender systems, a product recommendation may sometimes depend on many characteristics of the user such as gender, occupation, history of past purchases etc., but will often depend only (or most strongly) on a few characteristics such as location and home-ownership.

In this research we develop and analyze algorithms that allow efficient learning and decision-making while avoiding the curse of dimensionality. We formalize the information available to the learner/decision-maker at a particular time as a context vector which the learner should consider when taking actions. In general the context vector is very high dimensional, but in many settings, the most relevant information is embedded into only a few relevant dimensions. If these relevant dimensions were known in advance, the problem would be simple -- but they are not. Moreover, the relevant dimensions may be different for different actions. Our algorithms learn the relevant dimensions for each action, and make decisions based on what they have learned. Formally, we build on the structure of a contextual multi-armed bandit by adding and exploiting a relevance relation. We prove a general regret bound for our algorithms whose time order depends only on the maximum number of relevant dimensions among all the actions. In the absence of a relevance relation, the best known contextual bandit algorithms achieve regret that scales with the full dimension of the context vector. Our algorithms alternate between exploring and exploiting and do not require observing outcomes during exploitation (so allows for active learning). Moreover, during exploitation, suboptimal actions are chosen with arbitrarily low probability. The performance of our algorithms are tested on datasets arising from network security and online news article recommendations.
Related Publications
| | |
| --- | --- |
| | C. Tekin and M. van der Schaar, " RELEAF: An algorithm for learning and exploiting relevance", IEEE Journal of Selected Topics in Signal Processing (JSTSP), 9(4):716–727, June 2015. |
| | C. Tekin O. Atan and M. van der Schaar, " Discover the expert: Context-adaptive expert selection for medical diagnosis", IEEE Transactions on Emerging Topics in Computing, 3(2):220–234, June 2015. |
Online Learning for Social Networks and Recommender Systems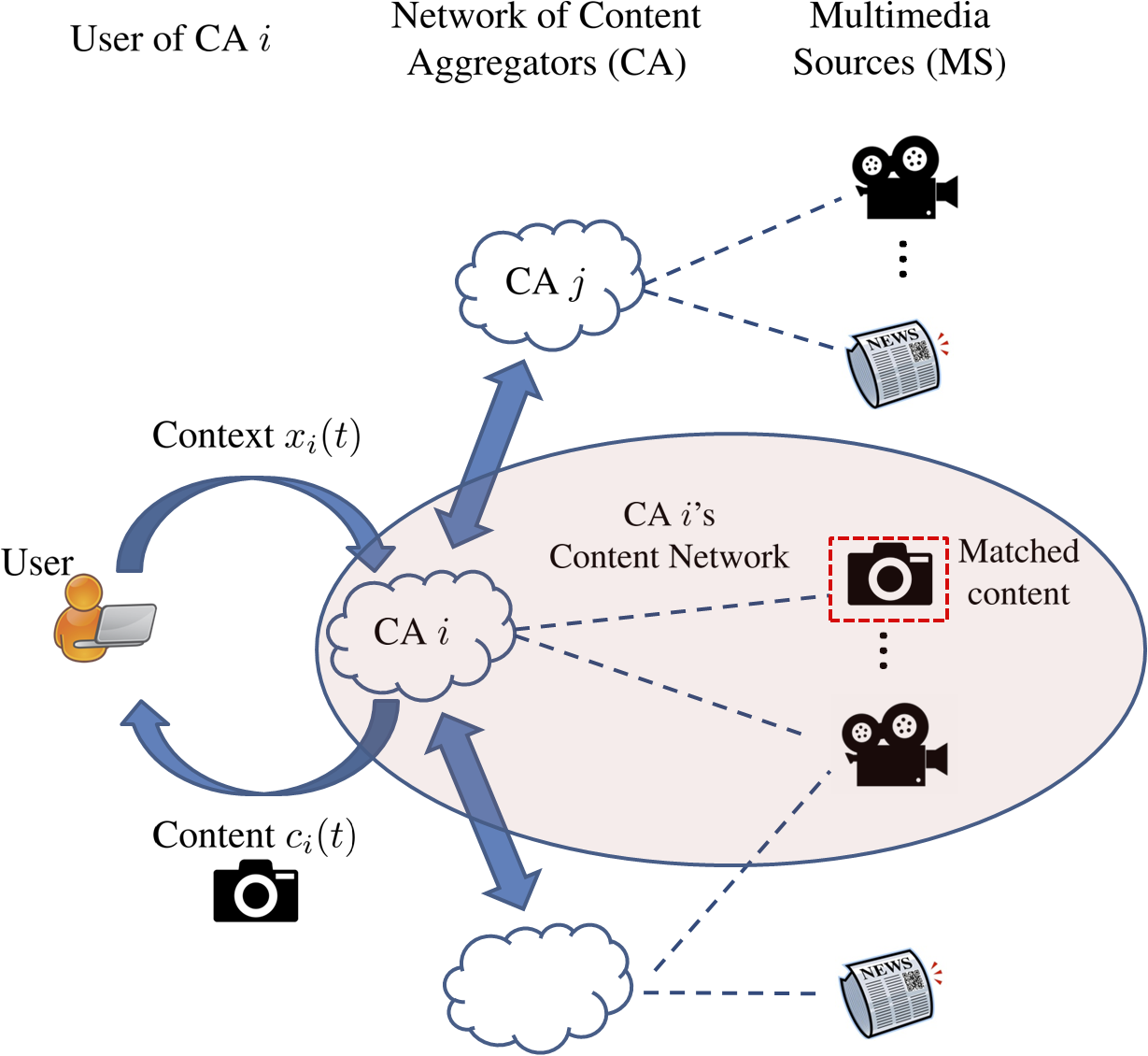 One of the most powerful benefits of a social network is the ability for cooperation and coordination on a large scale over a wide range of different agents. By forming a network, agents are able to share information and opportunities in a mutually beneficial fashion. For example, companies can collaborate to sell products, charities can work together to raise money, and a group of workers can help each other search for jobs. Through such cooperation, agents are able to attain much greater rewards than would be possible individually. But sustaining efficient cooperation can also prove extremely challenging. First, agents operate with only incomplete information, and must learn the environment parameters slowly over time. Second, agents are decentralized and thus uncertain about their neighbor's information and preferences.Finally, agents are selfish in the sense that, they don't want to reveal their inventory, observations and actions to other agents, unless they benefit.
In this research we produce a class of algorithms that effectively addresses all of these issues: at once allowing decentralized agents to take near-optimal actions in the face of incomplete information, while still incentivizing them to fully cooperate within the network.
The framework we consider is very broad and applicable to a wide range of social networking situations. We analyze a group of agents that are connected together via a fixed network, each of whom experiences inflows of users to its page. Each time a user arrives, an agent chooses from among a set of items to offer to that user, and the user will either reject or accept each item. These items can represent a variety of things, from a good that the agent is trying to sell, to a cause that the agent is trying to promote, to a photo that the agent is trying to circulate. In each application, the action of accepting or rejecting by the user will likewise have a distinct meaning. When choosing among the items to offer, the agent is uncertain about the user's acceptance probability of each item, but the agent is able to observe specific background information about the user, such as the user's gender, location, age, etc. Users with different backgrounds will have different probabilities of accepting each item, and so the agent must learn this probability over time by making different offers.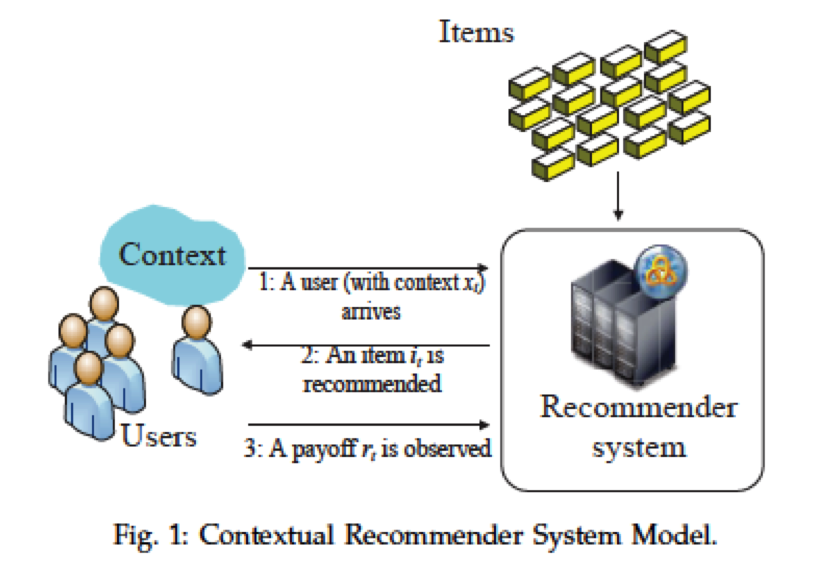 We produce a class of algorithms that allows agents to take near-optimal actions even with decentralized learning. We prove specific bounds for the regret, which is the difference between the total expected reward of an agent using a learning algorithm and the total expected reward of the optimal policy for the agent, which is computed given perfect knowledge about acceptance probabilities for each context. We show that the regret is sublinear in time in all cases. We further show that our algorithms can operate regardless of the specific network topology, including the degree of connectivity, degree distribution, clustering coefficient, etc., although the performance is better if the network is more connected since each agent will have access to more items of other agents.




Related Publications
| | |
| --- | --- |
| | L. Song, C. Tekin and M. van der Schaar, " Online learning in large-scale contextual recommender systems", IEEE Transactions on Services Computing, 9(3): 433-445, 2016. |
| | C. Tekin, S. Zhang, and M. van der Schaar, " Distributed online learning in social recommender systems", IEEE Journal of Special Topics in Signal Processing (JSTSP), 8(4): 638-652, August 2014. |
Discover the Expert: Context-Adaptive Expert Selection for Medical Diagnosis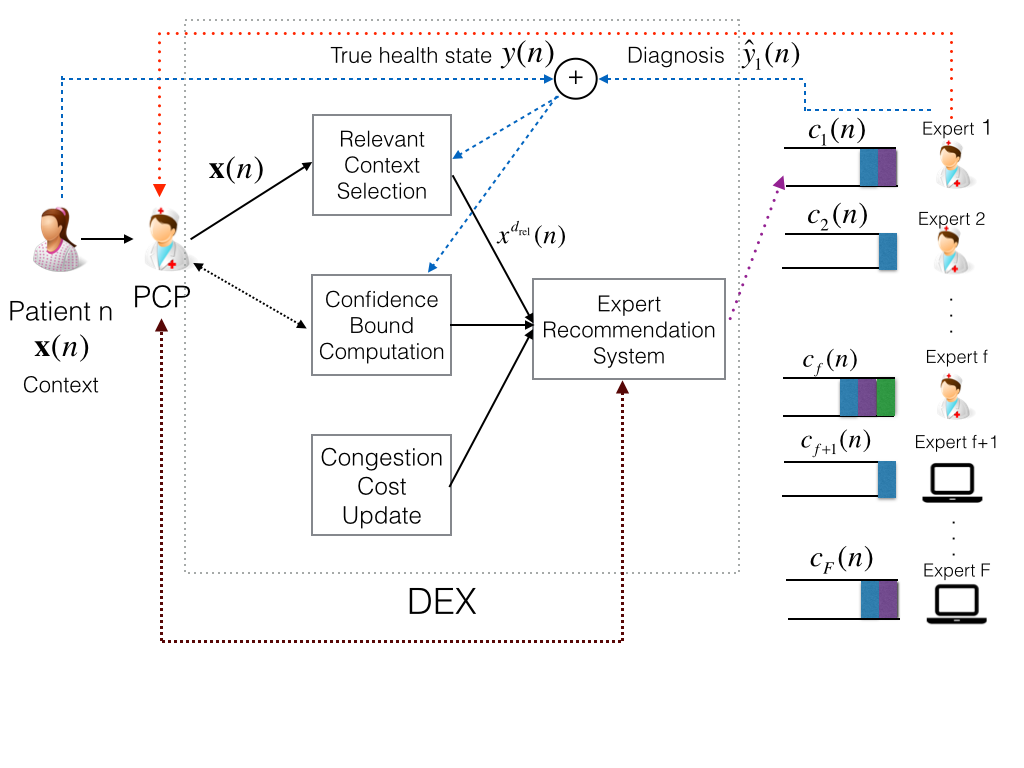 The development of healthcare informatics tools and decision support systems is vital, since recent studies show that standard clinical practice often fails to fit the patient. The landscape of healthcare is rapidly changing as the model for reimbursement shifts from fee-for-service, which emphasizes increasing volume, to pay-for-performance, which emphasizes improving quality of care and reducing costs. Healthcare organizations are now tasked with developing metrics for measuring quality in terms of outcomes, patient experience, workflow efficiency, access, and organization. The widespread adoption of electronic health records (EHRs) to capture data routinely generated as part of standard of care is yielding new opportunities to leverage such information for quality improvement and evidence-based medicine. Nevertheless, an ongoing challenge is how to effectively apply this high-dimensional and unstructured dataset to support clinical decision making (e.g., determining the correct diagnosis) and improve resource management (e.g., matching a patient with the clinician who best handled ``similar'' cases, while also considering the workload of clinicians).
This research aims to optimize clinical workflows by personalizing the match of (new patient) cases with the appropriate diagnostic expertise whether a Clinical Decision Support Systems (CDSS), a domain expert who specializes in similar types of cases, or another institution. In current clinical practice, patients are referred to experts in an ad-hoc manner based on one or more of the following factors: signs and symptoms of the patient, patient's or primary care physician's preference, insurance plan, and availability of the physician. This research develops a framework and associated methods and algorithms that uses semantic knowledge about the patient to assess and recommend expertise with the goal of optimizing the process for diagnosing a patient.
Related Publications
| | |
| --- | --- |
| | C. Tekin O. Atan and M. van der Schaar, " Discover the expert: Context-adaptive expert selection for medical diagnosis", IEEE Transactions on Emerging Topics in Computing, 3(2):220–234, June 2015. |
Machine Learning for Personalized Education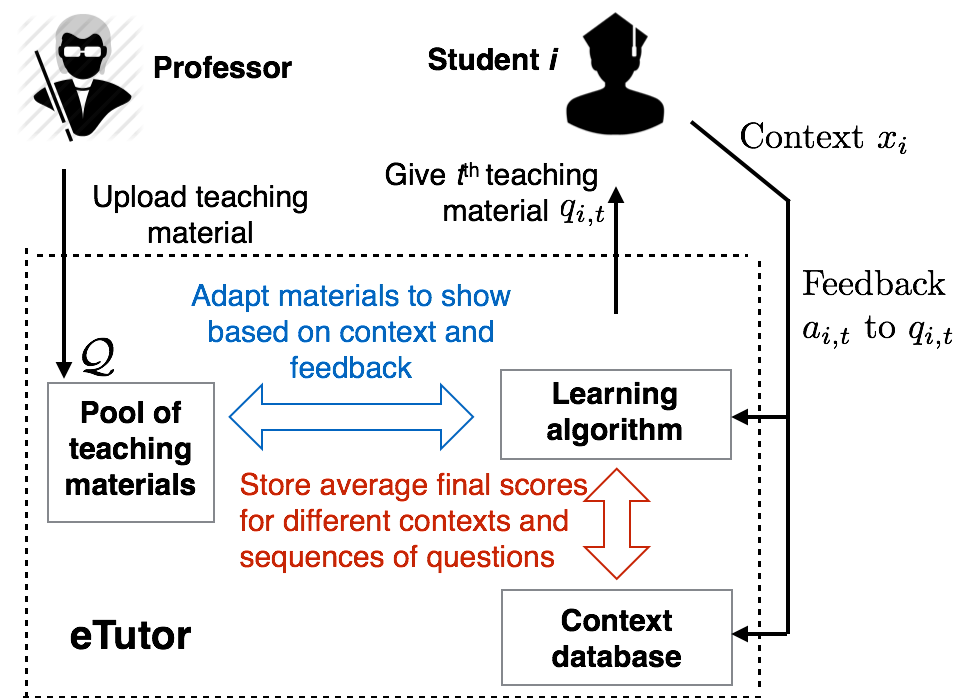 The last decade has witnessed an explosion in the number of web-based education systems due to the increasing demand in higher-level education, limited number of teaching personnel, and advances in information technology and artificial intelligence. Nowadays, most universities have integrated Massive Open Online Course (MOOC) platforms into their education systems such as edX consortium, Coursera or Udacity, to give students the possibility to learn by interacting with a software program instead of human teachers. Several advantages of these systems over traditional classroom teaching are: (i) they provide flexibility to the student in choosing what to learn and when to learn, (ii) they do not require the presence of an interactive human teacher, (iii) there are no limitations in terms of the number of students who can take the course. However, there are significant limitations of currently available online teaching platforms. Since courses are taken online, there is no interaction between the students and the teacher as in a classroom setting. This makes it very difficult to meet the personalized needs of each student, which may arise due to the differences between qualifications, learning methods and cognitive skills of the students. It is observed that if the personalization of teaching content is not carried out efficiently, high drop-outs will occur. For instance, the students that are very familiar with the topic may drop-out if the teaching material is not challenging enough, while the students that are new to the topic may get overstrained if the teaching material is hard.
Due to these challenges, a new web-based education system that personalizes education by learning online the needs of the students based on their contexts, and adapting the teaching material based on the feedback signals received from the student (answers to questions, quizzes, etc.) is required. For this purpose we develop the eTutor, which is an online web-based education system, that learns how to teach a course, a concept or remedial materials to a student with a specific context in the most efficient way. Basically, for the current student, eTutor learns from its past interactions with students with similar contexts, the sequence of teaching materials that are shown to these students, and the response of these students to the teaching materials including the final exam scores, how to teach the course in the most effective way.
Related Publications
C. Tekin, Jonas Braun and M. van der Schaar, "eTutor: Online learning for personalized education", in Proc. 40th IEEE International Conference on Acoustics, Speech and Signal Pro cessing (ICASSP), April 2015.
People
PhD Students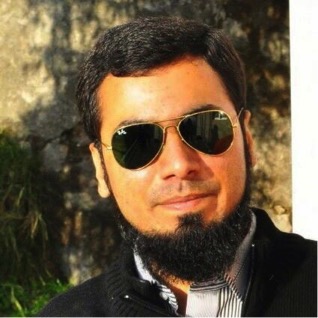 Muhammad Anjum Qureshi
Qureshi received his BS degree in engineering from UET Taxila EE department in 2005, and MS degree from CASE (Center for Advanced Studies in Engineering) in 2010. His research interests are online learning, cross-layer learning and healthcare informatics.
MSc Students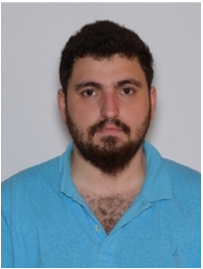 Cem Bulucu
Cem obtained his Bachelor of Science degree from Bilkent University, Electrical and Electronics Engineering Department in 2016. Before that, he studied in TED Ankara College High School with full scholarship. Currently, he is pursuing a Master of Science degree in Bilkent University, Electrical and Electronics Engineering Department under the supervision of Prof. Cem Tekin. His research interests include machine learning, metric and similarity learning, multi-armed bandits and recommender systems.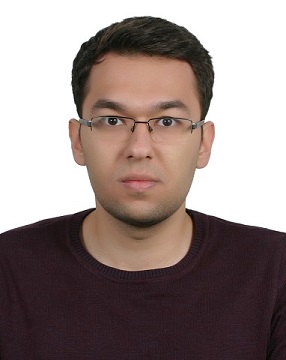 Ümitcan Şahin
Umitcan received his B.Sc. degree with high honours in 2016 from Electrical and Electronics Engineering Department of Bilkent University, Turkey. He is now pursuing his MS degree at the same department starting in 2016. He also works as a full-time research engineer in Intelligent Data Analytics Research Program Dept. at Aselsan Research Center. His research interests involve machine learning, bandit problems, and submodular optimization.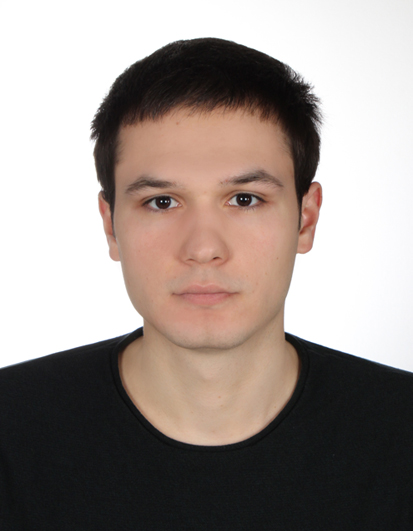 Eralp Turğay
Eralp received his B.Sc. degree in electrical and electronics engineering from Bilkent University in 2015, and he started master program in the same department. He finished Bolu Science College. His research interests include machine learning, data stream mining, neural networks and currently, he is working on multi armed bandit problems with Prof. Cem Tekin.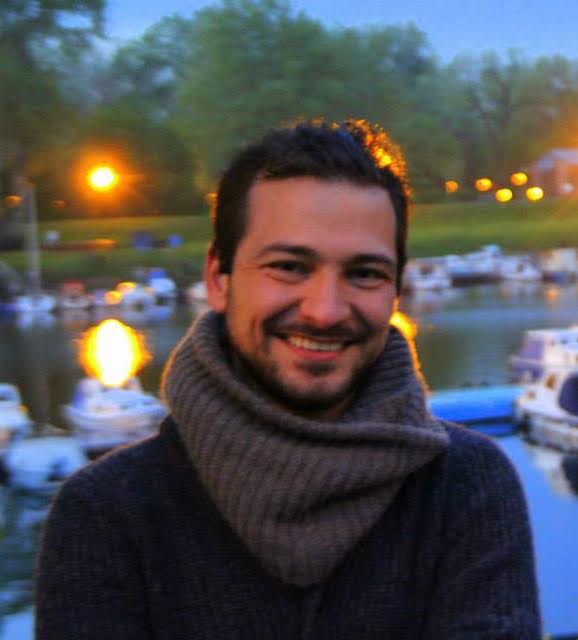 Kubilay Ekşioğlu
Kubilay graduated from Bilkent University CS Department in June 2010. After cofounding a NLP startup, he joined YC-backed Vizeralabs. Currently he is an MSc student in Bilkent University Electrical and Electronics Engineering Department working with Prof. Cem Tekin. His research interests include ensemble learning and recommender systems.
Undergraduate Students
Alihan Hüyük
Alumni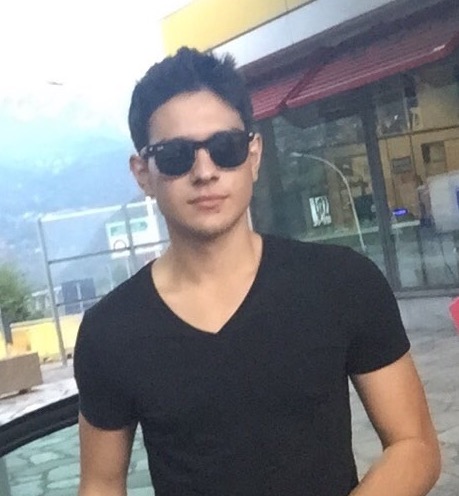 Doruk Öner [Former undergraduate student, now PhD student at EPFL]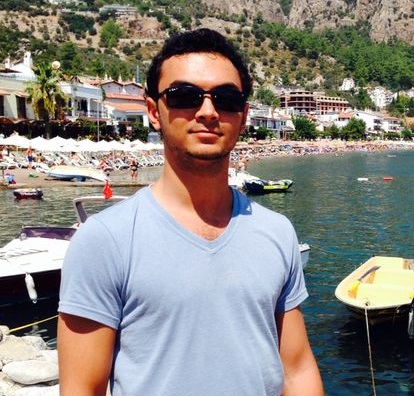 Anıl Ömer Sarıtaç [Former MS student, now PhD student at London Business School]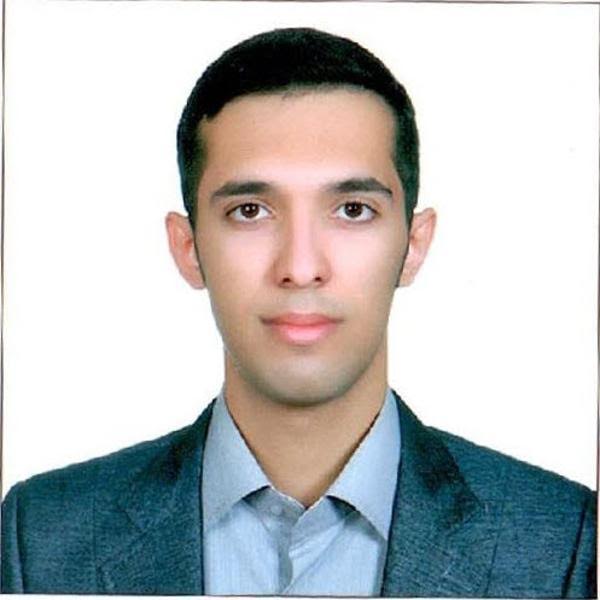 Nima Akbarzadeh [Former MS student, now PhD student at McGill University]